Hundreds of thousands of business owners who own offices in Atlanta are trying to develop simple ways to rejuvenate their office space. Many of them will turn to get their office space professionally cleaned, and they think it is the ideal solution. Calling professional office cleaners is an excellent way to improve the curb appeal of your office and make its ambiance impressive!
Often, people forgo keeping up with their office cleaning schedule due to time. But they should not ignore the safety & hygiene concerns inside their office. Hence, they should need the office cleaner's assistance for their office in Atlanta. But how will you be sure of hiring the right team for the job? Let's outline a few essential questions that you should ask prospective office cleaners that you're thinking of hiring!
Are You Licensed and Insured?
It is a crucial question that can be asked to a possible office cleaning service that you have short-listed. It is the most critical question to ask every office cleaning company. Most of the leading office cleaning companies are backed by proper licenses and authorization to do their business. Otherwise, you should not allow them to work in your office. It will end up with a pleasing experience and save you from damages to the office property or accidents or injury issues. It will also save you from the hassle of costly lawsuits. So, it is wise to work with a licensed and insured cleaning company that never cuts any corners.
Do You Share the Past Client Testimonials?
The simplest yet reliable way to select the office cleaning service is to understand what their previous clients say about them! If you're having trouble finding testimonials online, then you can ask the probable office cleaners in Atlanta to give the past clients data. Top lime office cleaners in Atlanta are contented to share their past client's lists. You can contact the clients personally that help you to make a conclusive decision. You can also go through the review sites on search engines and social media sites. You can also go through the company in the question's website section to find satisfactory answers to the questions in your mind.
How Long Are You in The Cleaning Industry?
The longer the cleaning company has been in the industry, the more confident you will feel about their services. It also indicates that they contribute exceptional service for a lot of happy customers! However, some new office cleaning companies also do a good job and remain professional while performing the office cleaning job. It is always wise to assess the experience of a company and its team for a satisfactory result.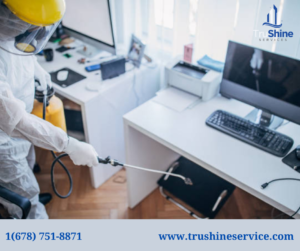 Are the Employees Undergo Background Checks?
The last thing you need to know is that the office cleaning company must hire employees with due background checks. Leading office cleaning companies in Atlanta operate with experienced, skilled, licensed & insured cleaners in the business. They are also appropriately vetted with the company, and the company is happy to share background checking procedures. Rest assured that you're comfortable with the laborers on your property.
When Did They Start the Project?
Leading office cleaners often have a busy working schedule. But they are customer-friendly and work according to the client's interest. It ensures that the work schedule will fit well with your needs.
Clean office space means a better-looking office both inside and out. To get your office cleaned effectively and efficiently, it is recommended to hire a professional office cleaning service in Atlanta. Let the proficient team at TruShine provide you with an assistance! Their office cleaning team comprises consumer-focused cleaning specialists that have been helping improve the quality of commercial properties for years. Call them today at (678) 751-8871 and let them provide you with the same value.
Saty social with us :- 
Pavelist, Hampton Roads Business Live, Company Directory, PeepLocal ,  Elite Services Network, Shop Local Australia, Puthen Peedika, Caribbean Business Directory, Cleansway, Brilliant Directories Demo, Cargo Directory, What\'s Up Norwin, worldtravelserver.com, Conscious Business Nexus, Local Business Directory